Winter Weather Means Hazardous Conditions for Construction Site Workers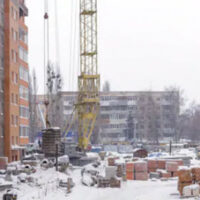 The days are shorter around Maryland, meaning snow, sleet, and other winter weather will be coming soon. For construction employees, the cold season brings tough work conditions and an increased risk of accidents. Even with plenty of training and compliance with safety rules, weather-related incidents can lead to severe injuries. If you're hurt in an accident, a Maryland workers' compensation lawyer can advise you on your rights to obtain monetary benefits for these losses.
While no one can predict the weather with 100 percent accuracy, you're in a better position to protect yourself when you know how it affects the construction work site. The biggest threats to your safety include: 
Rain: Precipitation leads to slippery surfaces, increasing the risk of your losing traction as you're navigating around a construction zone. Plus, equipment and materials you're handling may also be slick and difficult to manage, possibly causing a falling objects incident. 
Snow: In frozen form, precipitation can be even more dangerous. Many of the same risks apply as with rain, but they're amplified when there's even a dusting of snow. When the snowfall is heavier, it can also hide potential hazards, leading you to slip, fall, or trip over an object you can't see. 
Wind: The primary threat with winds affects construction crews who are working at a height, such as on ladders, scaffolding, cranes, and other surfaces several feet above ground. A gust could be strong enough to blow you over, which means you could topple to a hard surface below if fall protection gear is not present or wasn't properly installed. In addition, wind can create irritation in the eyes, mouth, and nose, and may lead to visibility issues. 
Temperature: Cold weather can be severe on a construction site that's open to the elements. Workers are at risk of hypothermia and frostbite, especially in the extremities. At the other extreme, heat and humidity in the summertime can cause severe medical conditions, including heat exhaustion and dehydration. Heat stroke can even be a life-threatening situation, as it can cause the kidneys to shut down – eventually leading to death. 
Lightning: There are many conductive materials present in a work zone, including equipment, vehicles, construction materials, tools, and more. A direct lightning strike to a person can be fatal, but even hits to equipment can cause fires and explosions. 
Fog: The biggest challenge with fog is visibility, primarily for operators of equipment, vehicle drivers, and anyone using heavy tools. 
Contact a Maryland Workers' Comp Attorney About Weather-Related Construction Accidents 
Construction workers who are injured on the job have rights under Maryland workers' compensation laws, whether the accident is caused by weather or any other factors. If you qualify, it's possible to recover monetary benefits for your medical costs, lost wages, and other losses. To learn more, please contact the Law Offices of Steinhardt, Siskind and Lieberman, LLC in Glen Burnie, Owings Mills, Ellicott City, or Annapolis. We can set up a consultation to review your circumstances and explain your options.
https://www.steinhardtlawfirm.com/maryland-workers-comp-benefits-for-occupational-diseases/