Michael D. Steinhardt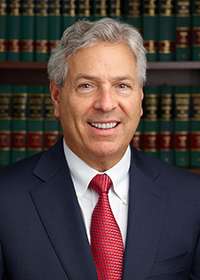 mds@steinhardtlawfirm.com
Phone: 410-766-7630
Toll Free: 866-902-4111
Fax: 410-766-8794
Quarterfield Center 808 Landmark Drive, Suite 227
Glen Burnie, Maryland 21061
Practice Areas
Workers' Compensation Claims
Social Security Disability and SSI Claims
Automobile Accidents, Personal Injury and Wrongful Death
Medical Negligence and Malpractice
For over 40 years, Michael D. Steinhardt has practiced law, committed to helping clients receive the best legal information and representation possible. A graduate of the University of Baltimore Law School and Georgetown University Law Center, Mr. Steinhardt concentrates in workers' compensation, personal injury, Social Security disability, and criminal and traffic law. In his spare time, he is active in the Maryland State Bar Association and is active in various charitable organizations.
Serving Injured Individuals And Families Throughout Maryland
The Law Offices of Steinhardt, Siskind and Lieberman, LLC represents Maryland individuals and families in Social Security disability, personal injury, wrongful death, medical malpractice, short and long term disability insurance denials, and workers' compensation claims. There are no attorney fees or legal expenses unless we win your case. Call 1-886-902-4111 today or contact us online for a free initial consultation with one of our attorneys at our main offices in Glen Burnie, and satellite offices in Owings Mills, Ellicott City, or Annapolis.
Education
J.D., University of Baltimore Law School, 1975
Master of Law, Georgetown University Law Center, 1980
B.A., State University of New York at Stony Brook, 1972
Jurisdictions Admitted to Practice
Court of Appeals, State of Maryland, 1975
District of Columbia Court of Appeals, 1978
U.S. District Court, 1976
U.S. Tax Court, 1980
Began in private practice of law, 1975
Professional & Bar Association Memberships
National Association of Social Security Claimants' Representatives
Anne Arundel County Bar Association
Maryland State Bar Association, Fellow
Maryland Association for Justice
Maryland State Bar Association Section on Negligence, Insurance & Workers' Compensation, Past Chairperson,
MSBA Section on Negligence on Negligence Insurance, Member, Member Since: 1997
Trial Courts Judicial Nominating Commission for Anne Arundel County, Former Member
Anne Arundel County Bar Association Board of Trustees, Former Member
Board of Directors of the Anne Arundel County Bar Foundation,Former Member,
Regularly conducts seminars for potential Social Security disability and SSI claimants
Awards
Maryland State Bar Association Law-Related Education Distinguished Service Award, 2001
Listed in Super Lawyers®—2008, 2009, 2010, 2011, 2012, 2013 and 2014, 2015, 2016, 2017, 2018,2019, 2020, 2021, 2022 and 2023
Teaching experience
Program Director for Maryland State Bar Association " Hot Tips in Workers' Compensation." (2017- )
Program chairman and lecturer for MICPEL, "How to Represent a Claimant in a Social Security Disability Claim," 2007
Lecturer for Lorman Educational Services, "Workers' Compensation in Maryland," 2001, 2002 , 2004
Lecturer, Towson University, Law and Psychology Course, 2000–2002
Maryland State Bar Association (MSBA), lecturer, "Hot Topics in Workers' Compensation:"

2001 – Practical Tips on Representing Claimants
2008 – Social Security Workers' Compensation Offsets
2011 – Surveillance Uses and Abuses
2012 – Death Claims
2014 – Evaluating Cases for Settlement
2015 – Workers' Compensation Offsets to Social Security Disability Benefits
2016 – Medicare and Workers' Compensation Medicare Set-Asides
2017 – Handling Catastrophic Cases

Maryland Workers' Compensation Education Association

2014 – Presentation on Recent Cases

Anne Arundel County Bar Association

2017 – So You Think You Have a Workers' Compensation Claim?

Regular provider of seminars on Social Security disability
Anne Arundel Country Bar Association Continuing Legal Education seminar: "Maryland District Court Civil Procedure," January, 1994
Social Security Disability Boot Camp – National Business Institute, 2013
Community activities
Member of the Board of Trustees, Bello Machre, 1996–2017; Member Emeritus 2017-present
Coach, Maryland Bar Association Mock Trial Program, 1997–2005
Coach of the Pikesville High School Circuit Champions, 1999–2000
Coach of the Pikesville High School State Champions, 1997–1998
Published Articles
"The Right of Handicapped Children to Free Public Education: A Procedural Guide," University of Baltimore Law Review, pp. 136-156, 1974