Next Steps After Your Social Security Disability Claim was Denied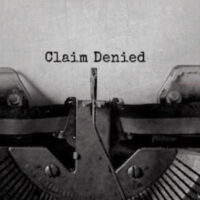 It's discouraging and disappointing to learn that the Social Security Administration (SSA) denied your claim for disability benefits, but the good news is that a denial doesn't spell the end of the process. You can take your matter to the next level by requesting a reconsideration review, and even going through a disability hearing proceeding to make sure SSA properly assesses all relevant information. However, the Social Security Disability appeals process is extremely complicated – far more complex than what you went through with your initial application.
Considering the challenges with reconsideration and appeals – and the difficult position you're in without the financial support of disability benefits – retaining a Maryland Social Security Disability lawyer is critical. Still, an overview may be useful.
Grounds to Request a Reconsideration: In Maryland, your first step after receiving a denial is to formally request for reconsideration. SSA assigns your claim to a different claims examiner, who will review your application, medical records, and related documentation to see if the decision to deny was proper the first time around. You would request medical reconsideration if your application was rejected because you don't qualify on the basis of your illness or injury. It's also possible to request a non-medical reconsideration if:
SSA denied your claim for Social Security Disability Insurance (SSDI) benefits because you had insufficient work history; or,
You were denied Supplemental Security Income (SSI) benefits because you have too much in assets or income.
Filing Your Request for Reconsideration: When filing a reconsideration request, you should include any new information that's come to light since you submitted your initial application. For instance, if a different doctor assessed your medical condition recently, you should supply the medical records that resulted from that visit. This information may provide more detail on your diagnosis, treatment, a medical procedure, or related facts – any of which may lead the new SSA claims examiner to approve your claim.
Though not as common, it may be possible to request reconsideration based upon one of the two points above. If you failed to include information regarding your income or assets, you could submit documentation showing that you do meet the requirements for SSI; you could also update your SSDI application where SSA's denial was based upon an incomplete work history.
Time Limitations: Note that there is a deadline to request a reconsideration, so you have 60 days after the denial to file your paperwork. If you don't, you'll need to file a brand new SSDI or SSI claim. In addition, there are some exceptions to the time period if you have good cause for why you missed the deadline.
Trust a Maryland Social Security Disability Attorney to Handle Your Claim 
Though this information may help you understand the basics, there are many other details involved with the reconsideration and appeals process. Our team at the Law Offices of Steinhardt, Siskind and Lieberman, LLC will provide the essential legal support you need, so please contact our office to speak with a Maryland Social Security disability lawyer. We can schedule a no-cost consultation for you at our offices in Glen Burnie, Owings Mills, Ellicott City, or Annapolis, MD.
Resource:
d.docs.live.net/3213d352f8dbb189/Documents/LBW/Dec%2015%20-%2028/www.ssa.gov/disabilityssi/appeal.html
https://www.steinhardtlawfirm.com/what-you-need-to-know-about-going-back-to-work-after-social-security-disability/