Increased Threat of Injuries for Maryland Road Construction Workers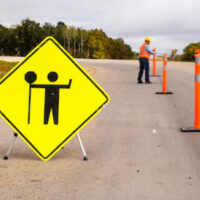 Road construction is a very valuable, essential service, so it's a very rewarding occupation for workers who enjoy high job satisfaction. However, the workplace environment is also a very dangerous one. According to the US Centers for Disease Control and Prevention (CDC), hazards present on road construction sites are among the top contributing causes for fatalities and injuries. Statistics from 2017 show that:
More than 300 road construction workers were killed in motor vehicle accidents while on foot and performing job-related tasks;
Around 50 percent of these fatalities occurred in three specific occupations, including maintenance, laborers, and trades;
Of the total number of deaths, the highest proportion was linked to accidents with trucks and other commercial vehicles.
If you were hurt or lost a loved one in a crash associated with road construction hazards, you should consult with a Maryland workers' compensation lawyer right away about filing a claim for benefits. Some information on the most dangerous types of road hazards may also be useful. 
Driver Frustration: As traffic slows down in road construction zones, motorist blood pressure tends to go up. Drivers become frustrated by reduced speed limits and get angry at other motorists attempting to merge into their lanes. When frustrated, motorists are more likely to drive aggressively to cut off other cars or swerve erratically to get ahead. These actions present a risk of accidents that affect construction workers in the zone. 
Worksite Vehicles and Equipment: Heavy machinery and large vehicles are essential tools at a road construction site, and they're moving and being operated by multiple crews. The most common types of accidents linked to worksite equipment are being struck by an object and getting caught between them.
Vehicle Emissions: As vehicles move through road construction, they're emitting exhaust – including such hazardous substances as carbon monoxide, sulfur, oxidized nitrogen, formaldehyde, and soot. Difficulty breathing, headaches, respiratory ailments, and nausea are common as workers breathe in these airborne toxins. Over time, road construction workers can develop long-term medical complications from exposure, particularly lung cancer and heart disease.
Weather Conditions: Most road construction projects will continue on schedule regardless of the weather. Even when workers properly use protective safety gear, rain, snow, and sleet create considerable hazards. Slip and fall accidents are common at the worksite because of slick surfaces, but these conditions also impact safe operation of vehicles and equipment.
In addition, fog is also a concern. Spread-out crews need visual contact to communicate and coordinate their efforts. When it's windy, gusts can also lead to road construction site accidents connected to usage of cranes, scaffolding, and platforms.
Talk to a Maryland Workers' Comp Lawyer About Your Benefits 
At the Law Offices of Steinhardt, Siskind and Lieberman, LLC, our team is dedicated to getting Maryland employees the benefits they deserve under state workers' comp laws. If you'd like more information about your legal remedies, please contact our Maryland workers' compensation lawyers to set up a free consultation. We're happy to meet with you at any of our locations in Glen Burnie, Owings Mills, Ellicott City, or Annapolis, MD.
https://www.steinhardtlawfirm.com/the-going-and-coming-rule-in-maryland-workers-comp-claims/