Helpful Social Security Disability Services and Statistics in Maryland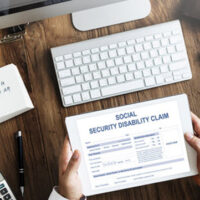 Even though Social Security Disability (SSDI) and Supplemental Security Income (SSI) programs administered by the federal government, some aspects of disability claims are handled at the state level in Maryland. Therefore, it's helpful to note some of the state agencies and resources that you'll encounter when applying for SSDI and SSI. Plus, you may want to review statistics on approvals, the time for processing claims, and amount of disability benefits, since they may be different as compared to nationwide figures.
One of your most valuable resources is your Maryland Social Security disability lawyer who will guide you through the complicated maze of rules and regulations. The following information may also be useful.
Maryland Disability Resources You Need to Know: The primary agency that you'll deal with when filing for SSDI or SSI is the Maryland Disability Determination Services (DDS), the authority that decides initial applications. DDS is a division of the Department of Rehabilitative Services (DORS), an umbrella agency that helps individuals with disabilities get back to work. The main office is located in Hunt Valley, about 17 miles north of Baltimore.
In addition, other Maryland agencies that handle various aspects of disability claims are:
Maryland Office of Hearings Operations (OHO): If your initial claim is denied by DDS and you don't succeed through reconsideration, your next step will be going through a disability hearing. OHO is the agency that manages the process, including setting up and conducting hearings. The main office is in Baltimore, but there are additional OHO field offices in Washington, DC, Charlottesville, VA, and Dover, DE.
Maryland's Department of Disabilities (MDOD): You may qualify for additional benefits if you're approved for SSI, so you'll work with this agency for cash and disability assistance. MDOD also handles supplements to disability benefits, which provide additional benefits to qualifying applicants.
Maryland Rehabilitation Services: For individuals who need assistance with going back to work, this agency can provide support through job training, placement, life skills, and other services.

Maryland Disability Statistics: To put things in perspective regarding SSDI and SSI claims, you should note a few key figures:
DDS approves around 33 percent of SSDI/SSI claims upon initial application, though 14 percent are approved after reconsideration review.
If you request a disability hearing to appeal a denial of benefits, the average time to the hearing date is approximately 15 months. At the national level, the process is longer – at around 19 months.
In disability hearings before Maryland OHO, administrative law judges approve benefits in around 70 percent of cases. The rates are lower in the DC, Dover, and Charlottesville offices.

Contact Our Maryland SSDI/SSI Attorneys for Assistance 
This state-specific information on Social Security disability resources and statistics may be helpful, but it's no replacement for retaining qualified legal counsel to help you navigate the SSDI/SSI process. Our team at the Law Offices of Steinhardt, Siskind and Lieberman, LLC has in-depth information regarding the laws and extensive experience dealing with Maryland disability agencies, so please contact our firm to set up a consultation today.
Resource:
dors.maryland.gov/resources/Pages/DDS.aspx#:~:text=For%20more%20information%20about%20eligibility,this%20section%20of%20SSA.gov.
https://www.steinhardtlawfirm.com/faqs-about-ssas-compassionate-allowance-disability-program/