Workplace Accidents Put Maryland Warehouse Employees At Risk Of Serious Injuries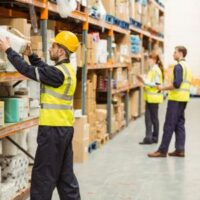 While accidents and injuries can occur in any industry, there are certain market sectors where the dangers to employees are more severe. Data from the Maryland Workers' Compensation Commission reveals that warehouse workers are at a high risk of work-related medical conditions: The storage and warehousing industry comprises 3.1 percent of all workers' compensation claims, ranking sixth in the Top 10 when it comes to claims filed every year. Fortunately, workers who qualify can receive benefits to cover the costs of medical treatment, lost wages, disability, and other losses.
These workers' comp benefits provide essential financial support for warehouse employees, who can suffer serious injuries due to workplace conditions. However, the claims process can be complicated if you do not have a legal background, especially considering the fact that your efforts should be dedicated to recovery. You can rely on a Maryland warehouse employee injury to assist with your claim, but some information on what to do after a work-related accident is helpful. 
Common Injuries from Warehouse Accidents 
Heavy equipment and constant movement are the norm in the storage and warehousing industry. These factors and others are why serious injuries are prevalent. The most common medical conditions for employees in this field include:
Slips from spills and slick surfaces, which frequently cause spinal cord injuries;
Tripping over debris and fallen boxes, often leading to broken bones;
Being struck by falling objects, a common cause of concussion;
Falling from a height, which often results in traumatic brain injury (TBI) and other head trauma;
Being crushed through loading and unloading;
Burns and smoke inhalation from fires and explosions; and
Injuries from exposure to hazardous materials and air-borne particles.
In addition, because warehouse employees work closely alongside companies that handle trucking and logistics, transportation-related accidents are common.
Tips for Injured Warehouse Workers 
If you were hurt on the job, your first priority should be getting the medical treatment you need right away. Maryland workers' comp laws allow you to go to your own doctor, but you might need to head to the ER for serious injuries. Once your health is stabilized, the following To-Do's are in order:
Notify your employer about the warehouse accident that caused your injuries. Under Maryland law, you must do so within 10 days after the incident to preserve your rights.
After your initial medical treatment, follow your doctor's orders for at-home care and attend all appointments.
Allow your workers' compensation lawyer to deal with your employer's insurance company. The claims process involves more than just filling out some forms, and you do not want to risk a denial through errors. 
Discuss Workers' Comp Claims with a Maryland Warehouse Employee Injury Attorney 
Our team at the Law Offices of Steinhardt, Siskind and Lieberman, LLC can assist with some of these tasks after a workplace accident, so please contact our firm today to set up a free consultation. We can meet with you at our offices in Glen Burnie, Owings Mills, Ellicott City, or Annapolis, MD to address details.
Resource:
wcc.state.md.us/PDF/Publications/AR_2019.pdf