What OSHA Standards Apply To Maryland Custodial Workers?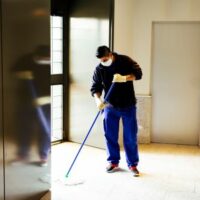 Ever since it was created in 1971, the Occupational Safety and Health Administration (OSHA) has been setting and enforcing standards intended to ensure employees have a safe, healthy workplace environment. All Maryland employers must comply with the General Duty Clause, which requires companies to maintain an employment setting free from recognized hazards that could cause a fatality or serious injuries. This regulation provides protection from the foreseeable dangers that may harm workers in any industry.
However, there are also OSHA standards that apply to specific industries because of the unique hazards employees frequently encounter. For custodial workers, there are numerous, potentially overlapping regulations to note. Though these rules are meant for your safety, they can also impact your rights if you were hurt on the job. Consult with a Maryland custodial worker injury lawyer about your options, but an overview of OSHA standards is useful. 
OSHA Standards 
Aside from the General Duty Clause, OSHA safety standards are organized into four categories. The one that will apply to custodial workers at most Maryland companies will be the class of regulations on General Industry. They cover:
Hazard communications;
Fire safety and exit routes;
Working surfaces;
Walking and working surfaces, which pertain to fall prevention; and,
Emergency action plans, such as for evacuations.
Other OSHA standards govern the agriculture, maritime, and construction industries. If you are a custodial worker at a site that falls within one of these categories, there are additional regulations to protect employees. 
Workers' Compensation Benefits in Maryland 
It is helpful to know the OSHA standards that apply to your profession, but you do not need to prove a violation to be eligible for workers' comp benefits. Maryland's workers' comp laws establish a no-fault system, so you may be eligible for benefits regardless of your employer's failure to comply with OSHA regulations. As a custodial worker, you will typically qualify if you are a covered employee who suffered workplace injuries while performing job-related tasks. Workers' comp benefits include:
Costs for all reasonable and necessary medical care, for your immediate treatment and in the future;
Wage replacement for time off work;
Total or partial disability benefits, on a temporary or permanent basis; and,
Death benefits, if you are the surviving family member of a custodial worker who was killed in a workplace accident.
The first step to obtaining benefits is notifying your employer and filing a workers' comp claim, which is processed through an insurance company. The insurer may approve payments right away, but denials and disputes are common. It may be necessary to go through the Maryland Workers' Compensation Commission to ensure you receive full benefits.
A Maryland Workers' Comp Attorney Can Explain Custodial Worker Injury Claims 
For more information on benefits and the workers' comp system in Maryland, please contact the Law Offices of Steinhardt, Siskind and Lieberman, LLC. We can set up a free consultation at our Maryland offices in Glen Burnie, Owings Mills, Ellicott City, or Annapolis. After reviewing your circumstances, a skilled lawyer can explain the claims process for custodial worker injuries.
Source:
osha.gov/laws-regs/oshact/section_5