Statistics On Transportation Accidents In The Workplace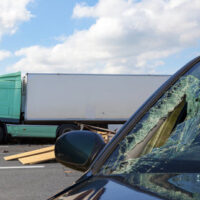 Motor vehicle accidents are a top cause of death and disability in the US and, unfortunately, these incidents can occur at work just as easily as when you are driving for personal reasons. According to the US Bureau of Labor Statistics (BLS), there were 4,764 fatal work injuries in 2020; of these deaths, 1,778 were employees killed in transportation collisions. Vehicle crashes account for 37.3 percent of all worker fatalities, making them the most frequent deadly event among all types of workplaces and industries. The figures for 2020 may have been affected by COVID-19 pandemic, but data from 2016 through 2019 also puts traffic crashes at the top for fatalities at work.
Though 2020 fatalities were at their lowest number since 2013, there are still thousands of employees and families affected by work-related transportation accidents. As you might expect, these incidents are covered by Maryland workers' compensation laws. However, there may be other legal avenues to explore in addition to or instead of filing a claim with your employer. A Maryland workers' compensation attorney can advise you on details, and some information on your rights is helpful.
Workers' Compensation v. Other Legal Remedies
 A covered employee who is injured at work while performing job-related tasks will typically be eligible for workers' comp benefits, and you do not need to prove fault to qualify. Within a short time after filing your claim, you can receive:
Medical costs for treatment;
Wage replacement; and,
Partial or total disability, on a permanent or temporary basis.
In most cases, workers' comp is your sole remedy. However, when your injuries were due to a traffic crash, there is an exception. You can pursue a third party, including a negligent motorist who caused the accident. Filing a civil action against the driver is advantageous because you cannot recover pain and suffering damages through workers' compensation. The downside is that litigation can take time, at least many months and possibly even years. With workers' compensation, your benefits kick in upon approval of your claim.
 What to do After a Work-Related Traffic Accident 
Knowing that there may be two remedies available, either separately or overlapping, it is critical to follow a few tips.
Get appropriate medical attention right away. You are not limited by workers' comp laws in terms of choosing your provider, so head to the ER, an urgent care facility, or your doctor.
Comply with your legal duties on exchanging contact and insurance information with other motorists.
Notify your employer of the accident as soon as you are physically able.
If contacted by an insurance company, you should confirm contact information but do not provide a statement or answer questions by the agent. 
Contact a Maryland Workers' Compensation Lawyer for Assistance 
If you suffered injuries in a work-related transportation accident, you can count on our team at the Law Offices of Steinhardt, Siskind and Lieberman, LLC to explore all available options for recovering compensation. For more information, please contact our offices in Glen Burnie, Owings Mills, Ellicott City, or Annapolis, MD to schedule a free consultation.
Source:
bls.gov/news.release/pdf/cfoi.pdf