Serious Threat To Maryland Construction Workers: Injuries From Falls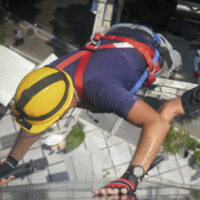 While an employee in any market sector can be injured in an on-the-job accident, the risks are higher for those in construction because of the nature of the workplace. One of the biggest threats to construction worker safety is falls, which are the number one cause of fatalities according to the US Centers for Disease Control and Prevention (CDC). Falls account for approximately 36 percent of all work-related deaths, at 401 fatalities in 2019. Of all industries, falls are highest in construction, accounting for more than half of all incidents nationwide.
You could suffer severe, disabling injuries if you were hurt in a fall on a construction site. Fortunately, Maryland workers' comp laws protect employees by covering health care and providing other benefits. The claims process can be complicated, so rely on a Baltimore construction worker injury to ensure you receive the benefits you deserve promptly. Some information on falls in construction is also useful.
Injuries from Falls in Construction: There are various ways an accident on a construction site might be classified as a fall. You could fall from a height off a platform, ladder, or scaffolding. Unprotected roof edges and ceiling and floor openings are also dangerous, which is why employers are required to provide fall protection when a construction employee is working at a height of 6 feet. A harness, safety straps, railings, and guards are necessary to protect workers.
The most common types of injuries from falls in construction include:
Traumatic head injury, concussion, and other head injuries;
Spinal cord injuries;
Broken bones, particularly in the lower extremities;
Cuts, bruises, and lacerations;
Amputation;
Dislocation of hip, shoulder, and ankle joints; and,
Soft tissue injuries, such as whiplash, herniated and bulging spinal discs, and bursitis.
What to do After a Construction Site Accident: Your first priority after a fall incident at work is to get proper medical care. Under Maryland workers' comp laws, you can choose your physician, so head to the ER, an urgent care center, or your doctor's office right away. Seeking treatment is essential to get on the road to recovery, but it is also a requirement for a workers' comp claim.
Some additional tasks to keep in mind include:
As soon as your injuries are stabilized, notify your employer about the incident. You have 10 days to do so.
File Employee Claim Form C-1 with the Maryland Workers' Compensation Commission.
Follow all doctor's orders for treatment at home and make sure to attend all appointments.
Reach out to a lawyer who will assist with other requirements for workers' comp claims.
Contact Our Maryland Workers' Compensation Attorneys to Discuss Your Options
If you are able to handle a few of these tasks, you can trust the Law Offices of Steinhardt, Siskind and Lieberman, LLC to manage the claims process. To learn how we can help, please contact our offices in Glen Burnie, Owings Mills, Ellicott City, or Annapolis, MD. We can set up a free consultation with an experienced construction worker injury lawyer who will advise you.
Source:
cdc.gov/niosh/construction/stopfalls.html