Safety Tips For Maryland Maintenance Workers Can Reduce Accidents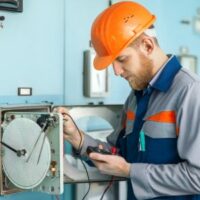 Maryland maintenance workers function in a highly dangerous environment, as the workplace is constantly in flux and employees are surrounded by hazardous tools, machinery, and building systems. It is not surprising that accidents are common, so it is reassuring to know that the Maryland workers' compensation system pays benefits to qualifying maintenance workers. You may be entitled to amounts for medical treatment, lost wages, and disability benefits if you qualify.
However, the workers' comp process can be complicated. You will be dealing with your employer's insurer, but you may need to take next steps through legal action if the company is unwilling to provide fair monetary benefits. It is wise to rely on a Maryland maintenance worker injury lawyer for assistance while you recover and aim to get back to work quickly. Still, the best strategy is to avoid accidents entirely by following a few safety tips for maintenance workers. 
Keep the workspace clean and tidy. Proper housekeeping is a basic requirement for preventing accidents, so make sure the work area is neat and free from debris. Slip and fall injuries are common when cords, tools, and other items are strewn across the floor. If you work maintenance around harsh cleaning agents and hazardous chemicals, make sure they are properly labeled and safely stored. Neglect can lead to burns, fires, and explosions.
Always use the right tool for the job. This is another common sense tip, but it deserves a reminder because of the impulse to grab whatever object is close. Applying the wrong tool can lead to accidents, but it can also damage the tool – increasing the potential for a future incident. In addition, use all equipment and machines properly and for their designated purpose. 
Wear the proper PPE for the task. Personal Protective Equipment (PPE) is what stands between your body and the risk of severe injuries from doing your job. The lack of PPE or misuse of gear all but guarantees that the harm will be worse than if you were wearing it. Before every shift, conduct an inspection to ensure your PPE is undamaged and functioning. 
Notify supervisors and other personnel about hazards. If you see something, either correct it immediately or say something. Communicate issues to supervisors right away and put co-workers on alert for their own safety. You should never assume that someone else will notify the right people to address the hazard and secure the area. 
Prevent Falling Items and Objects. When available, implement protections like netting, rails, and straps to secure items that could fall on others from overhead. Plus, you should stack boxes appropriately, ensuring they are straight and heavier items are on the bottom. 
Consult with Our Maryland Maintenance Workers' Comp Attorneys Today 
Safety tips are always helpful for prevention purposes, but you will need legal assistance if you were hurt on the job. For more information on workers' comp benefits for maintenance workers in Maryland, please contact the Law Offices of Steinhardt, Siskind and Lieberman, LLC. We can schedule a free consultation to review your situation and get started on the legal process.
Resource:
wcc.state.md.us/Gen_Info/WCC_Benefits.html