No Penalties For Amazon After OSHA Investigation Into Warehouse Employee Fatalities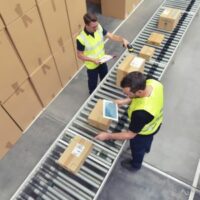 After completing its investigation into a deadly accident that killed six Amazon warehouse employees and injured dozens more in December 2021, the Occupational Health and Safety Administration (OSHA) determined not to issue any penalties. According to a recent article published by CNBC, a tornado blew through the 1.1 million square foot warehouse, causing the 11-inch thick exterior walls to fall inward. OSHA's probe revealed that Amazon complied with minimal safety guidelines for inclement weather, but the company failed in some areas.
Because OSHA considered the violations minor, Amazon was instructed to review its protocols regarding severe weather. Still, the lack of penalties does not impact the rights of the victims' surviving loved ones under Maryland workers' compensation laws. A Maryland warehouse employee injury attorney can explain your remedies after a fatal work accident, while some general information is also helpful.
Maryland Workers' Comp System is No-Fault 
In many incidents that cause personal injuries, a victim must prove that the injuries were a result of negligence by another person or party. Workers' compensation laws do NOT require evidence of misconduct by an employer. Instead, warehouse workers qualify for comp benefits if they are covered employees who are hurt in an on-the-job accident or while performing job-related tasks. In other words, the fact that OSHA decided not to penalize Amazon is not relevant to the rights of victims.
Note that there is a caveat to not having to prove fault: Maryland workers' comp laws provide your exclusive remedy when injured in a work-related accident or suffering from an occupational disease. You cannot take your case to court unless:
Your employer failed to carry workers' comp insurance as required by law;
Your employer's intentional misconduct caused your injuries; or
A third party caused the accident, in which case you CAN pursue that person or organization in court. 
Death Benefits in Fatal Workplace Accidents 
Maryland workers' compensation laws also apply to situations where a covered warehouse employee is killed in an on-the-job incident. Surviving family members have standing to file a claim, so the spouse, children, and other dependents may be eligible to receive death benefits. These amounts cover:
Medical expenses for treatment prior to the worker's death;
Funeral and burial costs; and
A portion of the warehouse employee's weekly wages.
Surviving family members cannot recover for pain and suffering, emotional distress, and related losses, which are only available in a civil lawsuit. However, you DO qualify to seek these amounts if your situation falls under #3 above.
Talk to a Maryland Warehouse Employee Injuries Lawyer About Workers' Comp Claims 
It is fortunate that Maryland workers' comp laws do not require proof of fault or an OSHA violation to obtain benefits, but the legal process is still complicated. For help with your claim, please contact the Law Offices of Steinhardt, Siskind and Lieberman, LLC. We can set up a complimentary consultation at our offices in Glen Burnie, Owings Mills, Ellicott City, or Annapolis. Once we evaluate your situation, a warehouse employee injuries attorney can advise you on options.
Source:
cnbc.com/amp/2022/04/26/amazon-warehouse-collapse-osha-orders-safety-review-no-fines.html