Maryland Workers' Comp Laws And Benefits For Injured Supermarket Workers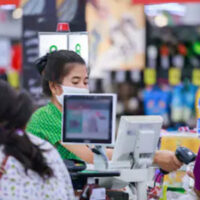 At first glance, the data on nonfatal occupational injuries and illnesses specifically focusing on Maryland supermarket workers does not appear to be concerning. The US Bureau of Labor Statistics (BLS) reports that there are around 1,600 total reported cases of medical conditions every year from employees at grocers and food markets, just a fraction of the 64,900 cases reported for all industries in the state. However, it is troubling when you realize that more than 56 percent of these employees will need time off work, a job transfer, or job restriction to address their injuries.
These figures put things into perspective, but it is reassuring to know that state workers' comp laws cover supermarket employees who are injured on-the-job or suffer an occupational disease. To ensure you get the benefits you deserve, retain a Maryland workers' compensation lawyer who can guide you through the process. Plus, some basics on workplace accidents and risks for food market employees may help.
Common Injuries and Risk Factors in the Food Market Work Environment 
There is a wide range of employment positions at a typical supermarket, including cashiers, shelf stockers, cleaning crew, customer service, and workers in specific departments. As a result, the risks and types of injuries may include:
Strains from lifting and handling items;
Slip and falls on slick surfaces or cluttered aisles;
Being struck by falling or unsecured objects;
Back, feet, and leg problems from standing for long periods;
Transportation accidents, such as when workers are gathering carts in the parking lot; and
Repetitive stress injuries from performing the same tasks throughout a shift, which can impact tendons, ligaments, and muscles.
In addition, at grocery stores with specialty departments, employees are at risk of injuries related to food preparation. Bakery workers may suffer burns, while individuals working in the deli or butcher department often sustain serious cuts and amputation. 
Maryland Workers' Comp Benefits for Supermarket Employees 
The details of your benefits depend upon your unique circumstances, but covered workers may be eligible for:
Costs of medical care for your work-related medical condition, now and in the future;
Wage replacement based upon your average weekly wages;
Temporary or permanent disability payments, for a condition that leads to total or partial disability; and
Death benefits, if you lost a loved one because of a medical condition linked to the supermarket workplace.
Note that there are time limitations when seeking workers' comp in Maryland. You have 10 days to notify your employer about an on-the-job accident, and one year to report an occupational disease.
Consult with Our Maryland Workers' Comp Attorneys About Your Options 
If you are a food market or grocery store employee who suffers from a work-related medical condition, time is of the essence to retain skilled legal assistance with the workers' comp process. To learn more about your rights, please contact the Law Offices of Steinhardt, Siskind and Lieberman, LLC. We can set up a free consultation for you at our locations in Glen Burnie, Owings Mills, Ellicott City, or Annapolis.
Resource:
bls.gov/iif/oshstate.htm#MD