Maryland Workers' Comp Benefits for Lower Back Injuries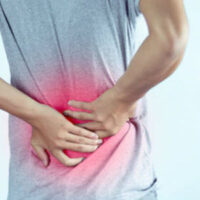 Many people assume broken bones or serious head injuries are the most common reasons employees seek workers' comp benefits, so it is surprising to learn the top disabled body parts. According to the Maryland Workers' Compensation Commission (MD WCC), lower back injuries comprise 21.4 percent of all reported claims. Some are the result of repetitive physical activities in jobs that require lifting, sorting, and bending. Other workers suffer trauma to the thoracic spine because of workplace accidents.
Regardless of the cause of your lower back injuries, Maryland workers' comp system offers benefits for qualifying employees. Most workers are eligible if the injuries were suffered on-the-job, while performing work tasks. A Maryland workers' compensation benefits lawyer can explain what you might receive when filing a claim, and there are different options on how you get paid. An overview of the relevant topics is useful.
Benefits for Lower Back Injuries: The details will vary based upon the nature and severity of the trauma, but you may qualify for a range of benefits: 
Medical Costs: Injured employees are entitled to all medical care that is reasonable and necessary to treat a work-related medical condition.
Wage Replacement: You can obtain a percentage of your income if you are unable to work because of lower back injuries. The amount is based upon your average weekly wage.
Disability Benefits: If your injuries are permanent, you can recover benefits for total or partial disability. You can also obtain amounts for temporary disability, which is common with lower back injuries. 
Types of Medical Care: Lower back strain is a painful repetitive motion injury, but other injuries are the result of traumatic workplace accidents. Your workers' comp benefits for medical care are extremely important for lower back injuries. Many kinds of treatment are extremely expensive, especially when the medical condition affects the spine. Fortunately, benefits are available for:
Surgery
Rehabilitation
Physical therapy
Wheelchairs, crutches, and other mobility equipment
Medications for pain 
Options for Workers' Comp Benefits: When you file a claim with your employer's insurer, the company will conduct an investigation to determine its validity. If you qualify and provide sufficient evidence, it is often possible to settle your claim. At this point, you may have options as far as getting your workers' comp benefits: Monthly payments or a lump sum.
There are pros and cons to both, and you can trust your lawyer for advice. The lump sum might seem attractive to cover bills, but a monthly payment helps you control spending over time.
Set Up a Consultation with a Maryland Workers' Comp Benefits Attorney
Though you do have options regarding your workers' comp benefits, it is important to carefully consider them if you suffer from lower back injuries at work. For additional details on your remedies and the process, please contact the Law Offices of Steinhardt, Siskind and Lieberman, LLC. We can schedule a free case assessment at our offices in Glen Burnie, Owings Mills, Ellicott City, or Annapolis, MD. After we review your situation, a workers' comp lawyer will advise you.