Maryland Workers' Comp Benefits For Head Injuries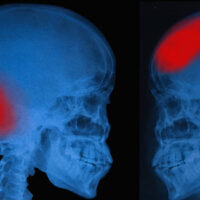 Head injuries are among the most severe forms of trauma from Maryland workplace accidents, and they occur more frequently than you might think. According to the US Bureau of Labor Statistics (BLS), there are 68,170 total reported cases of head trauma nationwide, including injuries to the eyes and neck. This figure represents just 6 percent of all workplace injuries, but the implications for a victim are still significant. Besides incurring astronomical medical bills, you could miss work and suffer temporary or permanent disability.
Maryland workers' compensation laws cover the vast majority of employees, so you may qualify for benefits if you sustained head injuries in an on-the-job accident. Financial support is essential for your recovery and getting back to work as soon as you are able. A Maryland workers' compensation benefits lawyer can assist with the complicated claims process, but some background on work-related head injuries is informative.
 Benefits for Head Injuries: Some of the most common forms of head trauma in the workplace include concussion, skull fractures, penetrating head injuries, and axonic injuries resulting from oxygen deprivation. Most of these qualify as traumatic brain injury (TBI), which affects how the brain works. If you are eligible for workers' comp, your benefits may include:
Medical Benefits: You can obtain amounts for all medical care that is reasonable and necessary to treat your head injuries.
Wage Replacement: If you are out of work while recovering from head injuries, you may receive amounts for wage replacement. The sum is based upon a percentage of your average weekly wage (AWW).
Disability: Payments for disability are also based upon your AWW, and the basics are described in more detail below.
Vocational Rehabilitation: In some cases, a head injury will render you unable to work in the position you had before being hurt. Workers' comp covers vocational benefits to help you train for another profession.
Death Benefits: If a head injury is fatal, surviving family members may qualify for death benefits. 
Defining Disability Benefits: In Maryland, disability benefits for workers' comp may be paid on a temporary basis depending on the employee's ability to work. If a worker cannot return to the job for work purposes, they may receive temporary total disability benefits; you could qualify for temporary partial disability benefits if you can work but your income is reduced because of your limitations.
Permanent disability benefits are also based upon a total or partial ability to perform job-related responsibilities. When head injuries lead to loss of vision or use of the extremities, they are often considered permanent.
 A Maryland Workers' Comp Benefits Attorney Can Help with Your Claim
If you suffered head injuries at work, it is wise to rely on skilled legal counsel to assist with workers' compensation. Our team at the Law Offices of Steinhardt, Siskind and Lieberman, LLC is ready to support you, so please contact our offices in Glen Burnie, Owings Mills, Ellicott City, or Annapolis, MD right away. We can schedule a free case evaluation to review your case and advise you on next steps.
Source:
bls.gov/web/osh/cd_r13.htm