Lower Back Injuries For Maryland Food Market Employees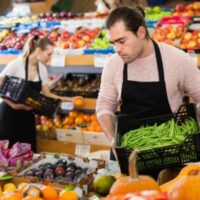 There are often stories in the news about horrific workplace accidents, but the most common harm across all industries will probably not garner headlines. According to the Maryland Workers' Compensation Commission (MD WCC), the highest number of reported cases involves injuries to the lower back. More than 1,500 employees seek benefits for harm to the thorax section of the spine, comprising more than 21 percent of all reported cases. Second place goes to shoulder injuries, which represent about 1 in 5 claims for workers' comp.
Employees in any industry can suffer lower back and shoulder injuries, but conditions are more common with some positions. Food market employees are at risk when they perform job-related tasks to keep store shelves stocked, so it is important to pursue your legal remedies if you were hurt. It is wise to rely on a Maryland food market employee injury attorney for assistance, and some background information is useful.
How Lower Back Injuries Happen 
Workplace accidents are frequently behind employee injuries, but Maryland workers' comp laws are also intended to protect workers who suffer harm from repetitive strain. The harm is not from sudden trauma, instead developing over time as the employee engages in repeated, continued movement affecting the same part of the body.
Food market employees are at risk of lower back injuries because their job requires lifting, loading,
unloading, reaching, contorting, and other sources of strain. There is no easy treatment for these injuries because they affect so many tissues, including muscles, nerves, tendons, and ligaments. As proof, note the duration of workers' comp benefits for disability:

82 percent of employees who suffer lower back injuries receive up to 74 weeks; and,
99 percent of workers who sustain harm to the shoulders get up to 249 weeks. 
Workers' Comp Benefits for Food Market Employees 
Almost all workers will qualify for benefits, as long as your injuries are directly related to performance of job-related tasks. With accidents, proving eligibility is usually not difficult. However, when they suffer repetitive motion injuries to the lower back, food market workers can encounter challenges. Employers often contest the severity of the harm, and some insurance companies will deny claims on the grounds that they were not the result of work conditions.
There are strategies for overcoming challenges and getting the benefits you deserve, which may include:
All medical costs that are reasonable and necessary to treat your lower back injuries;
Wage replacement;
Total or partial disability, on a temporary or permanent basis; and,
Vocational rehabilitation, if your lower back harm is so severe that you cannot work in your current job.
Speak to a Maryland Workers' Compensation Lawyer About Options 
If you suffered lower back injuries or any other type of harm in your job as a food market employee, please contact the Law Offices of Steinhardt, Siskind and Lieberman, LLC right away. We can set up a no-cost case review at our Maryland offices in Glen Burnie, Owings Mills, Ellicott City, or Annapolis. After learning more about your situation, a workers' comp attorney can provide additional details.
Source:
wcc.state.md.us/PDF/Publications/AR_2021.pdf