Heavy Equipment Operators Must Take Quick Action After A Work Accident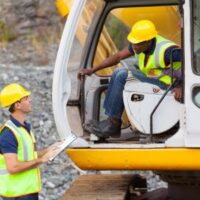 While it is possible to suffer from a work-related injury or occupational disease in any industry, there can be no question that some market sectors present higher risks for workers. Considering their employment environment and job tasks, heavy equipment operators most definitely face unique hazards. Fortunately, under Maryland workers' compensation laws, all employers with one or more employees must carry workers' comp insurance to pay benefits to eligible workers. If you sustained a medical condition related to your job, you most likely qualify.
However, what you do in the aftermath of an on-the-job accident also affects your eligibility to a certain extent. You must be diligent in pursuing your legal remedies and comply with critical deadlines, so trust a Maryland workers' compensation lawyer for assistance with the process. Plus, here are a few tips for heavy equipment operators after a work accident.
Get Proper Medical Care Right Away. Depending on the nature and severity of your injuries, seek treatment immediately after a work-related accident with heavy equipment. You have your choice of medical providers under Maryland workers' compensation laws, so you might opt to head to the ER, an urgent care center, or your own primary care physician. 
Notify Your Employer About Heavy Equipment Injuries. One key deadline in the workers' comp process is that you must report an injury-causing workplace accident within 10 days; heavy equipment operators that suffer from occupational illnesses must provide the notice to the employer within one year after you know about your condition – such as through your physician's diagnosis.
File an Employee Claim Form. You should also notify the Maryland Workers' Compensation Commission (WCC) about your workplace injuries as a heavy equipment operator. The deadline for filing the Employee Claim Form C-1 is 60 days after the accident for most bodily harm that does not result in death. 
Stick to Doctor's Orders. Many heavy equipment operators will require additional physician visits, treatment from specialists, and ongoing care to fully recover from their injuries. It is critical to show up for all appointments, follow doctor's orders for at-home care, and avoid physical activity as recommended by your health care providers. Failure to be diligent with your medical care could have adverse consequences for your workers' comp benefits. 
Keep Meticulous Notes. Start a journal if you were injured, taking notes on your pain level, limitations, and experiences. Your recollections may be important when filing a claim and if you need to take additional action through the WCC.
Our Maryland Workers' Comp Attorneys Can Assist with Essential Tasks 
The risk of injury may be high for heavy equipment operators, but these employees are still entitled to workers' comp benefits. If you take quick action on the tasks that are in your court, you can count on our experienced lawyers at the Law Offices of Steinhardt, Siskind and Lieberman, LLC for legal help. Please contact us today to set up a no-cost consultation at our Maryland offices in Glen Burnie, Owings Mills, Ellicott City, or Annapolis, MD.