5 Top Accident Risks For Maryland Warehouse Workers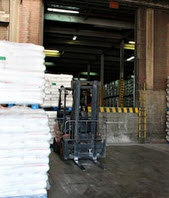 At first glance, data from the US Bureau of Labor Statistics (BLS) does not raise any red flags regarding workplace injuries to Maryland warehouse employees. There are around 4,100 recordable cases of on-the-job injuries every year, just a fraction of the 64,900 total across all public and private industries. However, 3,100 of these cases involve days away from work, job transfer, or work-related restriction. That means more than 75 percent of warehouse workers will suffer wage loss, and temporary or permanent disability, in addition to the medical costs they incur to treat their injuries.
Fortunately, the Maryland workers' compensation system protects warehouse employees by extending monetary benefits. If you qualify, you can obtain crucial financial support and medical care until you can return to work. The specifics can be complicated, so it is wise to trust your claim to a Maryland workers' compensation lawyer. Some background information on the top accident risks may also be helpful.
Forklift and Equipment Accidents: Warehouse employees use and work around heavy, powerful machinery required to perform job-related tasks. Forklifts move, raise, and lower extremely heavy loads, but they can become unbalanced. This equipment can tip over, crushing the operator and other workers in the vicinity. An operator can also lose control over the equipment, causing the load to fall onto an employee. 
Being Struck by an Object: Besides forklifts, there are many other types of handling equipment in warehouses. Employees may be shifting loads and moving inventory by crane, which can lead to accidents when the items are not secure. If inventory is improperly stocked, entire shelves can fall down and send objects hurtling down upon workers. 
Falls on Floors or From a Height: Loading docks are the primary reason for falls from a height, as employees are focused on moving inventory and may not notice they are near the edge. Warehouse employers are required to implement adequate fall protection, such as straps, harnesses, and guard rails. Slip and fall accidents can also occur on floors that become slippery because of broken containers or leaks. 
Truck and Transportation Accidents: Trucks are a common feature around the warehouse environment, so collisions are common. Employees who drive them are at risk of motor vehicle crashes, but people working around trucks can also be struck. 
Overexertion: Warehouse activities can be strenuous for employees pushing and pulling carts, lifting loads, and carrying inventory. It is possible to overexert yourself through these efforts, which often lead to back, shoulder, and neck injuries. Repetitive stress injuries are also common in warehouses as workers engage in the same motions to perform job functions. 
Speak to a Maryland Workers' Compensation Attorney About Your Options 
If you were hurt while working at your warehouse job and want additional information about workers' comp benefits, please contact the Law Offices of Steinhardt, Siskind and Lieberman, LLC. We can set up a free consultation at our main office in Glen Burnie or other locations in Owings Mills, Ellicott City, or Annapolis. Once we review your circumstances, we can advise you on the relevant laws.
Resource:
bls.gov/iif/oshstate.htm#MD