5 Steps To Take After A Maryland Workers' Comp Denial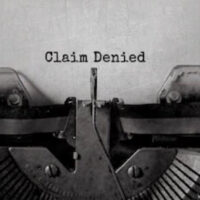 Workers' compensation benefits are intended to provide essential medical care for injured employees and financial support until workers can return to the job. Unfortunately, this purpose can be thwarted if you receive a denial when filing your claim with your employer and/or insurance company. Though the Maryland Workers' Compensation Commission (MDWCC) reports that around 24,000 claims are filed per year, these figures do not provide a complete picture on what happens behind the scenes. Not all claims are approved, so there is always the risk that your claim for workers' comp benefits will be rejected at a time when you desperately need them.
The good news is that a denial of benefits is not the end of the workers' comp process, and you have additional options. A critical first step is retaining a Maryland denied workers' compensation claim attorney, but an overview of what to do next is useful. 
Determine Reasons for a Workers' Comp Denial. You should receive an official letter stating that your claim for workers' comp benefits was rejected, and it will include information on why. Understanding the reasons is important for developing a strategy, so note whether the denial mentions:
Missed deadlines, such as not notifying your employer of an injury within 10 days;
You were not hurt at work;
Your injuries were outside the scope of employment; or,
You were not injured badly enough to require medical care. 
Correct Errors or Omissions. If any of the reasons for a denial is something you can fix without running afoul of workers' comp laws, take action to correct clerical mistakes, clarify details, or provide additional information. With some claims, a minor error may not require involvement from MD WCC and you can receive approval – and benefits – promptly.
 Collect Additional Medical Information. In some cases, you may need to gather additional proof of your injuries, diagnosis, prognosis, and treatment for review by your employer's workers' comp insurer. 
File a Claim. Your next step is filing an appeal with the MD WCC, which you must do within 30 days after receiving the letter regarding denial. The hearing stage of the process is similar to a trial, so each side will have the opportunity to present evidence, exhibits, medical information, and witness testimony. An administrative law judge from the MD WCC presides over the proceeding, and all parties may be represented by counsel. You could receive payment shortly thereafter if the judge rules in your favor, but requesting a rehearing and/or court appeal may be the next steps if the initial denial is confirmed. 
Trust a Maryland Denied Workers' Comp Attorney for Legal Help
It is helpful to know the steps following a denial of workers' comp benefits, but you can rest assured that our team at the Law Offices of Steinhardt, Siskind and Lieberman, LLC will handle all essential tasks. For more information on options after your claim is rejected, please contact our firm to schedule a free consultation at our offices in Glen Burnie, Owings Mills, Ellicott City, or Annapolis, MD.
Resource:
wcc.state.md.us/PDF/Publications/AR_2019.pdf