5 Questions to Ask Your Maryland Workers' Comp Attorney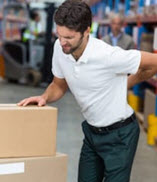 For the 62,600 Maryland employees who suffer workplace injuries annually according to the US Bureau of Labor Statistics, the first consequence is the physical pain. Once you seek proper medical attention and get on the road to recovery, however, there are many other pressing concerns. Not only will you incur bills for medical treatment, but you've also got other financial obligations that don't go away just because you can't work.
Under the circumstances, you probably have dozens of questions about your rights. Your Maryland workers' compensation lawyer can provide you with answers, especially regarding the basics.
What proof do I need when filing a claim? Maryland workers' compensation laws are based upon eligibility rules, so you'll need to show that you're a covered employee that was hurt on the job. You do NOT have to prove that your employer was negligent in causing your injuries.

Should I talk to my employer's workers' comp insurance company? After you notify your employer and get the claims process moving, you may be contacted by the insurer. A claims adjuster may want to know more about the cause and nature of your injuries, to ensure you qualify for workers' comp benefits. It's wise to speak to an attorney before having a discussion with an employee for the insurance company. You could say something that disqualifies you or puts your benefits at risk.

What kinds of benefits can I receive? Workers' comp covers medical costs to treat your injuries, even future expenses for your care. You can also receive a percentage of your lost income as wage replacement. If your injuries are such that you need to switch jobs, you may qualify for vocational training to get you set for a new career.
In addition, some family members may be able to receive death benefits if an eligible employee dies as a result of a work-related medical condition. 
Will I have to go to court? It's unlikely that you'll need to go to court, but there's a possibility you may need to participate in a disability hearing. This proceeding may be required if there are disputes or other issues regarding your claim.

What if I want to settle my claim? Settling your workers' comp claim may be an advantage, but the key is timing. If your injuries are permanent or you experience complications, you shouldn't discuss settlement until your health care provider determines that you've reached the maximum point of recovery. Otherwise, you may not get sufficient benefits to cover your losses.
Our Maryland Workers' Compensation Attorneys Can Answer All Your Questions 
Though this information may be useful, you'll certainly want to know more about your rights under state workers' comp laws. Our team at Law Offices of Steinhardt, Siskind and Lieberman, LLC can explain the relevant legal issues and assist with your claim, so please contact one of our offices in Glen Burnie, Owings Mills, Ellicott City, or Annapolis, MD. We're happy to set up a consultation to discuss your circumstances.
Resource:
bls.gov/iif/oshstate.htm#MD
https://www.steinhardtlawfirm.com/maryland-workers-compensation-commission-announces-new-benefit-rates-for-2019/