You Can No Longer Work? How to Prove it to SSA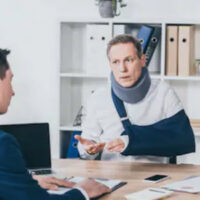 The federal Social Security Disability Insurance (SSDI) and Supplemental Security Income (SSI) programs exist to provide financial support to individuals who cannot work because of an illness or injury. As such, you can see that a key aspect of your claim for benefits is proving your inability to perform essential job functions. Unfortunately, this presents more challenges than you may expect. The Social Security Administration (SSA) often denies initial applications on these grounds, meaning you may need to go through the disability hearing process to gain approval for benefits.
If you're like many SSDI or SSI applicants, the idea of participating in a formal disability hearing and proving you can't work may seem daunting. It's true that the process is complicated, which is why you should trust a Maryland Social Security Disability lawyer to advocate on your behalf. An overview may also be helpful.
SSA Standard for Determining Whether You Can Work: A simple statement that you can't do your job isn't enough for SSA to approve your claim for benefits, which is probably the reason your initial application was denied. Instead, you need to provide evidence regarding your "Residual Functional Capacity" (RFC), which is a measurement of how much you can exert yourself in a work environment. If you don't possess sufficient RFC to perform necessary work tasks, you may qualify for disability benefits. 
Aligning Your RFC to Your Prior Job: At your disability hearing, it's important that you present proper information regarding your past work. You want to make sure SSA considers your RFC in the context of your actual tasks and responsibilities. You do NOT want SSA to focus on:
Your job title, which can be misleading;
The tasks typically associated with your job, since you may have done more or less than what a hypothetical worker did; or,
Your position as described by your employer, which usually just mentions guidelines in the hiring process.
Any of these factors could skew the analysis of your RFC, potentially leading to a denial of your disability claim. Your goal is to make SSA understands your unique education, qualifications, physical requirements, and job functions – not what others may assume you did for a living before becoming disabled. 
The Impact of Special Accommodations: Some employers are willing to provide special accommodations for workers who suffer from a medical condition, enabling them to work despite a disability. If you're able to perform your same job functions, with the special accommodations, SSA will likely deny your claim – because you CAN work. You'd only qualify for benefits if you can't do your job at all, even with your employer's help. 
Set Up a Consultation with a Maryland Social Security Disability Attorney 
For more information regarding RFC and your ability to work after suffering a disability, please contact the Maryland Social Security disability attorneys at the Law Offices of Steinhardt, Siskind and Lieberman, LLC to schedule a free case evaluation. We can review your case and determine the best strategy for pursuing your right to SSI or SSDI benefits. Our firm serves clients throughout Maryland from our offices in Glen Burnie, Owings Mills, Ellicott City, and Annapolis.
https://www.steinhardtlawfirm.com/ssdi-applications-terminology-you-need-to-know/