Workers' Comp for Injuries in Maryland Office Buildings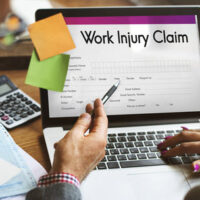 Construction, agriculture, and public safety are the industries you expect to top the list when it comes to workplace injuries. Most people do not see executives, clerical, and administrative, and professionals as working in a hazardous environment, but you would be surprised at the figures. According to the Maryland Workers' Compensation Commission (MD WCC), at least 100 claims are filed by people in these positions every year. People employed at office buildings are covered by workers' compensation laws, so benefits are available.
However, accidents at office buildings are unique because of the work setting. You perform job-related tasks in the space occupied by your employer, but there are also common areas. Considering the environment, you could have a workers' comp claim or a personal injury case. While it is important to consult with a Maryland workers' compensation attorney about details, you can read on for an overview about workplace accidents and office workers.
Workers' Comp for Most Accidents: The default rule is that you qualify to file a workers' comp claim if you were hurt in an on-the-job accident while performing work-related tasks. There are plenty of hazards in the office setting that could lead to injuries or occupational diseases:
Carpal tunnel syndrome from typing and repetitive hand patterns;
Lower back injuries for workers who handle large file boxes;
Ergonomic strains and injuries related to posture and repetitive movement; and,
Electrocution and burns from worn, damaged power cords for office equipment.
If your workers' comp claim is approved, you can receive benefits for medical care, wage replacement, and permanent or temporary disability.
 Personal Injury Lawsuits: In most cases of workplace injuries, workers' comp is your only remedy. There is an exception where a third party's negligence caused the accident, and it may apply in situations of injuries to office workers. When your office space is within a building that houses other tenants, the company that owns and/or operates the structure has a duty to keep the premises safe.
In such a situation, you may have a personal injury claim for premises liability. Unlike a workers' comp claim, you will need to prove fault by the owner/operator. However, you can obtain damages for pain and suffering.
Location is Key: With accidents in office buildings, the location of the incident will be a core factor in deciding whether you have a personal injury or workers' comp claim. When injured in a space where your employer has control, you will likely go with workers' comp. Injuries in a common area or diseases resulting from air quality issues could be the fault of the building owner.
Talk to Our Maryland Workers' Comp Lawyers About Remedies 
As you can see, the details of the workplace accident will dictate how you proceed with legal options. For more information about your rights, please contact the Law Offices of Steinhardt, Siskind and Lieberman, LLC. We are happy to set up a no-cost consultation at our offices in Glen Burnie, Owings Mills, Ellicott City, or Annapolis, MD. After reviewing your case, we can discuss next steps.
Source:
wcc.state.md.us/PDF/Publications/AR_2021.pdf