High Risk Of Burns Means Higher Workers' Comp Benefits For Maryland Firefighters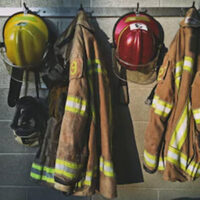 Burns are fortunately one of the least common types of workplace injuries, at just 1.4 percent of total cases reported to the US Bureau of Labor Statistics (BLS) every year. However, the risk of suffering severe burn injuries is higher among firefighters for obvious reasons. The Maryland Workers' Compensation Commission (MD WCC) reports that an average of 3 percent of the total claims filed annually involve men and women working at fire departments, placing the industry in the Top 10 in terms of workplace injuries and occupational diseases.
Recognizing the higher risk of burn injuries within the profession, lawmakers and MD WCC officials grant firefighters special treatment under workers' comp laws. While the rules work in your favor, there are still legal requirements to get proper benefits. You gain an advantage by retaining a Maryland firefighter injuries attorney for help, and some background information is useful.
Workers' Comp Benefits for Firefighters 
Recognizing that public safety employees put their lives at risk to protect Maryland communities, lawmakers allow special treatment when it comes to workplace injuries and occupational diseases. Firefighters are covered by the definition of public safety employee, so you enjoy two perks:
If you are hurt in a workplace accident, your rate of workers' comp benefits is higher compared to employees in the private sector. This provision applies to benefits for Permanent Partial Disability. A firefighter who suffers burns or any other injuries in an accident may be entitled to roughly double the amount that a worker in a different industry would get for the same injury.
Firefighters are also entitled to a legal presumption when it comes to certain occupational diseases. If you develop high blood pressure, heart disease, lung disease, or designated forms of cancer, it is assumed that you contracted the condition through work conditions. Considering the exposure and inhalation of smoke, firefighters are often prone to these ailments.
Why You Need Attorney for Firefighter Injury Claims 
It is reassuring to know that workers' comp laws provide additional protections, but it is not so easy to take advantage of them. Insurance companies often deny claims or approve benefits far lower than what you deserve. A lawyer will support your needs by:
Collecting evidence of how the accident happened;
Reviewing your medical records and requesting additional documentation as necessary;
Filling out all claims forms and submitting them with supporting paperwork;
Advocating on your behalf in dealings with the insurance company;
Addressing any claims related to the legal presumption for public safety employees, since the employer/insurer has the chance to rebut; and,
Pursuing appeals and additional remedies under workers' comp laws. 
Our Maryland Firefighter Injuries Attorneys Will Advise You
If you suffered burns or any other type of injuries in your work as a firefighter, please contact the Law Offices of Steinhardt, Siskind and Lieberman, LLC to speak to a member of our team. We can set up a complimentary consultation at our offices in Glen Burnie, Owings Mills, Ellicott City, or Annapolis, MD. After we evaluate your circumstances, we can get started with the claims process.
Source:
wcc.state.md.us/PDF/Publications/AR_2021.pdf